San Diego
A surfer's paradise with year-round sunshine and a laid-back attitude, San Diego is a West Coast gem. Put your USA graduate visa to intern in the southernmost city in California and you'll be in good company. Over a million residents make this a cultural hot spot with a growing economy. Located just 2 hours south of LA at the US-Mexico border, it's a diverse, historic city by the sea.
Why San Diego?
As the birthplace of California, the city brims with Mexican-American heritage; don't miss the shops and restaurants of Old Town and the art and culture of Balboa Park, a stunning complex of museums, galleries and public gardens that spans 1,200 acres.
Get your USA career training in San Diego, and you'll return home with more than just a tan. You can gain career-boosting experience in technology, business, hospitality and tourism. For recreation, try surfing, kayaking or paragliding. For nature lovers, the San Diego Zoo is a sprawling centre of conservation, home to thousands of rare and endangered species. Put your USA work visa to use in America's sunniest city and you'll have the experience of a lifetime.
Where to Intern
Key industries in San Diego include biotechnology, green energy and IT. Hospitality and tourism are thriving sectors, as are medical research, healthcare, higher education, maritime industries and defense (San Diego is home to one-third of the US Marines). It may be famous for tacos and surfing, but San Diego is also a hub of technological research.
Where to Live
The Gaslamp District is the most visited, but each neighbourhood in this growing city offers character, shopping and great food. In the emerging East Village, adjacent to downtown, you'll find restaurants and bars popping up, alongside Petco Park, home of the San Diego Padres baseball team. Across San Diego Bay lies the elegant beach community of Coronado, while the city's coastal area is bursting with charming communities - from the beach bum neighbourhoods of Pacific Beach, Ocean Beach and Mission Beach, to the ritzy enclave of La Jolla. To find a San Diego home of your own, try SanDiego.craigstlist.org or the classified sections of the U-T San Diego (utsandiego.com) and San Diego Reader (readerrentals.com).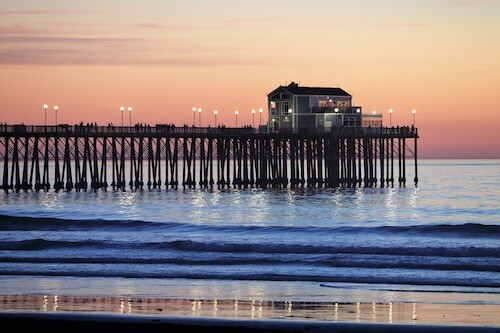 Climate
Enjoy your USIT 12 Month Visa with some of the best weather in the USA, thanks to San Diego's nearly 365 days of warm sunshine. Fluctuations within California's unique microclimates is always a possibility, but you can generally expect mild, sunny weather, in the mid-20s year-round, with warmer summer temperatures inland.
Can't see a city you want to work in?
There are loads more potential destinations for your 1 Year Graduate Visa, Professional Career Training or Internship Programme, just drop us a line or drop in and chat to one of our experts who'll help you fond your perfect place to live and work.