Chicago
Chicago is famous for big city excitement and midwestern hospitality, making it a wonderful place to live and work in the USA. The third most populous US city, its population swells from 3 to 9 million when you count the greater metropolitan area (the third largest in the country, after New York and Los Angeles). So why do so many people flock to the Windy City? Just look at the cyclists on Lake Shore Drive, the miles of beaches and promenades along Lake Michigan and the stunning skyline, and see why.
Why Chicago?
Chicago is a haven for post-graduates, offering a diverse population, dynamic sports culture, historic architecture and some of the best food in the country - from deep dish pizza to soul food. Use your USIT 12 month visa to gain experience in one of its many thriving industries, including technology, financial services and publishing. The home of Duke Ellington and Muddy Waters, it's a music mecca for blues and jazz too.
Chicago is an ideal location for training in the USA, whatever field you choose. President Obama famously began his career here, so you're in good company! You'll find Chicago packed with African-American heritage, arts and culture, and midwestern charm - perfect for your year to remember in the USA.
Where to Intern
Chicago has a robust publishing industry, second only to that of New York, and produces magazines and educational materials. It is also home to the Chicago Mercantile Exchange, making it an exciting place to intern in America's financial sector. Green energy, transportation and health services are other large Chicago industries. From microbiology to marketing, Chicago has plenty to offer as your base for a year of career training in the USA.
Where to Live
The city is defined by its north, south and west sides, and you'll want to brush up on your baseball (the Cubs play on north side; the White Sox on the south). In the centre, you'll find the Loop and the shopping of the Magnificient Mile. On the north side there's Lincoln Park with its Old Town theatres, or the beaches and ethnic communities of the Far North Side. Historic Bronzeville lies to the south, while the west side's trendy Bucktown and Wicker Park have become popular with artists and graduates. To find a Chicago apartment, visit Chicago.apartments.com, Sublet.com or Chicago.craigslist.org.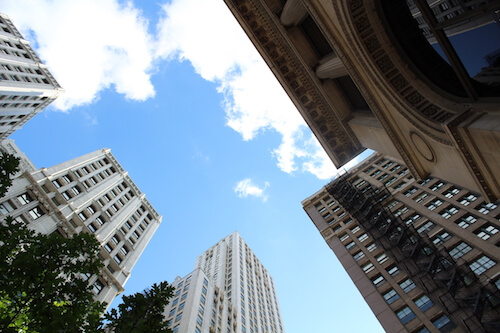 Climate
The Windy City moniker may have various origins, but it is the city's weather that is most famous. You'll experience all four seasons in Chicago, with wet springs and humid summers tempered by pleasant Lake Michigan breezes. Pack your woollies for its famously frigid winter.
Can't see a city you want to work in?
There are loads more potential destinations for your 1 Year Graduate Visa, Professional Career Training or Internship Programme, just drop us a line or drop in and chat to one of our experts who'll help you fond your perfect place to live and work.